Are Employers Running Social Media Background Checks?
Whether it's Facebook, Twitter, Instagram, Tumblr, or any number of the social media outlets there are out there, you've probably interacted with at least one. Social media has become a centerpiece of peoples' lives, updating information with a click of a button for friends to see. So when it comes to
pre-employment screening
, should you include a social media background check on your candidates alongside other necessary screens including
criminal history
and
drug testing
?
According to the survey completed in 2018
by The National Association of Professional Background Screeners (NAPBS), only 8% of the 95% of employers conducting background checks actually incorporated a social media check to their screening process. Why such a small percentage? There are several reasons employers shy away from social media screenings on candidates, some of which are covered in our latest whitepaper, "
Social Media Background Checks: Friend or Foe?
"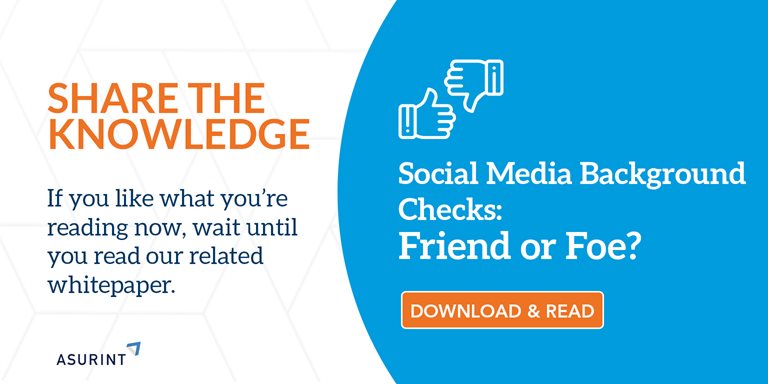 Discrimination Claims
One of the biggest deterrents that our whitepaper covers is discovering protected class information. Protected class information includes subjects such as race, religion, sexual orientation, among many others. Exposure to this type of information could lead to complaints filed with the EEOC and possible litigation if the candidate feels a social media background check lead to some type of discrimination if they were not chosen for the job. As an employer, it is a tougher defense to say, "but I didn't make my decision based on that information" verses never having been exposted to the protected class information in the first place.
Download & Learn More
Want to learn more about social media background checks? Download our whitepaper, "
Social Media Background Checks: Friend or Foe?
" and get to know factors to consider when approaching these types of background checks such as:
catfishing
protected lawful activity
discrimination
regulated state laws